With the Tesla announcement last week to start selling Powerwalls and Solar panels at over 800 Home Depot stores, I started playing around on the website to check out how much it would really cost if I wanted to have a Tesla roof installed here on Seattle's Eastside. With our current market conditions making it more and more difficult to find affordable housing – more people then ever are choosing remodeling staying over moving.
Using the Tesla website estimator, this is what came up for my home in Bothell:
Cost of roof ($50,900)
Cost of Powerwall battery ($7,000)
Tax credit (+ $14,200)
Net cost over 30 years ($18,300)
A traditional roof on my house would be likely around $8-$10k in comparison. While the appeal of energy costs savings is strong and being guy with the Tesla roof sounds kinda nice – this expense (for my situation) just doesn't make sense anytime soon. My real follow-up question would be – who is the ideal candidate for a sleek/energy efficient/expensive roof like this?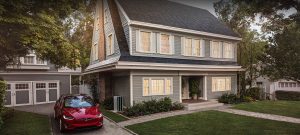 Value of energy
The value of energy your Solar Roof is expected to produce over 30 years is based on the average price of electricity in your area, adjusted for inflation by 2% annually. Your ability to realize the full value depends on your home's electricity usage, amount of energy storage available, and utility regulations on solar in your area. Electricity price estimates are sourced from the Energy Information Administration and solar production estimates are based on irradiance data from NASA.
Cost of roof
The estimated cost of your Solar Roof includes materials, installation, and the removal of your old roof. Taxes, permit fees and additional construction costs such as significant structural upgrades, gutter replacement, or skylight replacements are not included. The Solar Roof cost is based on estimated roof square footage for your home, provided by Google Project Sunroof where available, and the portion of your roof covered with solar tiles.
Cost of Powerwall battery
The estimated cost of your Powerwall includes the battery, supporting hardware and installation cost. We recommend that every Solar Roof be installed with a Powerwall battery to enable you to use more of the solar power your roof produces and keep your home running during a grid outage. In states that do not have Net Energy Metering policies, we estimate and recommend a number of Powerwalls that will enable you to realize the full benefit of the energy your Solar Roof produces.
Tax credit
The 30% Solar Investment Tax Credit applies to the cost of the solar tiles and associated solar energy equipment as well as the cost of the Powerwall batteries. To receive the full tax credit, you must have federal income tax liability that's at least equal to the value of the tax credit. This credit may be carried over to future tax years. Additional state, local or utility solar incentives may apply but are not included in this calculation.
Monthly loan payment
Customers can choose to finance their Solar Roof through their home mortgage. The loan amount is equal to the total Solar Roof cost, less the estimated 30% federal tax credit. The monthly loan payment is amortized over the selected loan term at the selected interest rate. Tesla is not a mortgage lender. Values depicted above are for illustrative purposes only.
Mortgage interest deduction
A benefit of financing a Solar Roof through a home mortgage is the tax deduction customers may receive on their mortgage interest. This value decreases over time as the mix of principal and interest paid per month shifts. The value of the mortgage interest deduction will vary depending on customers' tax rates and individual financial information. This is not tax advice. Please consult your tax advisor.
Traditional roof cost
A typical asphalt shingle roof cost starts at $5 per square foot. The monthly loan payment for a traditional roof is estimated using the same loan term and interest rate as is selected for the Solar Roof for a given roof size.
Recommended solar tile coverage for your home
We recommend the portion of solar tiles for your roof that we estimate will produce enough electricity to cover your home energy usage. To customize your usage, enter your average monthly electric bill. If you choose to increase the portion of your roof covered with solar tiles, your home may generate more electricity than it needs. In this case, you may not realize the full value of energy your Solar Roof produces. Your entire roof is not eligible to be covered with solar tiles due to building regulations and obstructions. Recommended solar tile coverage is based on estimated eligible roof area for solar.
Warranty and specs
All warranties and ratings apply to the United States only. Similar warranties and ratings will be developed for other markets. Our tile warranty covers the glass in the tiles. The power warranty covers the output capability of the solar tiles. Weatherization means that there will be no water leaks or other weather intrusions during the warranty period that result from our installation.
Installation timing
Initial trial installations are complete and customer installations are underway with plans to ramp up in 2018. When Solar Roof is rolled out in a particular market, Solar Roof customers will be installed based on when their order was placed.
For more info visit: https://www.tesla.com/solarroof